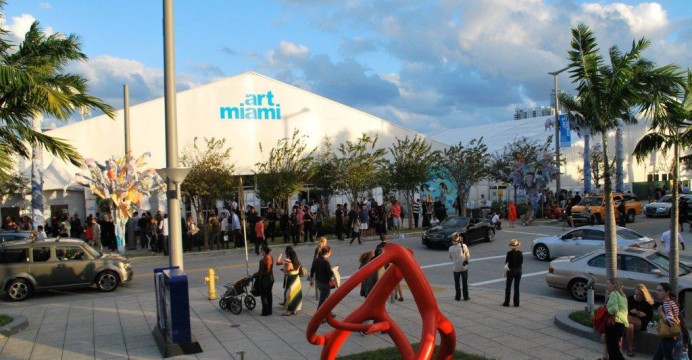 Art Miami & Context to Highlight Exemplary Works
Art Miami

 is the city's original and longest running contemporary and modern art fair, now celebrating its 25th anniversary, together with its adjacent sister fair 

CONTEXT

, will present an array of dynamic projects and exhibitions as the anchor event of Art Week in Miami, December 2-7, 2014.  Established collectors, members of the press, curators, museum professionals and art world luminaries will have first access to view and acquire important works during the VIP Private Preview on Tuesday, December 2, which benefits the 

Pérez Art Museum Miami

 and 

Miami Light Project

. The event will also display a luxurious collection of the latest automotive designs from Maserati. Both fairs will then open to the public from Wednesday, December 3 through Sunday, December 7, during which 

Christie's International Real Estate

 will host an interactive booth at the entrance of Art Miami, exhibiting international luxury residential real estate offerings. With a combined exhibition space covering three city blocks and totaling 250,000 square feet, Art Miami and CONTEXT have grown to include a roster of more than 200 galleries, showcasing 1,875 artists from 60 countries around the globe.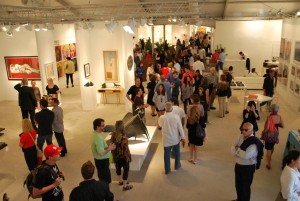 Maintaining a preeminent position in America's contemporary art fair market, Art Miami annually features monumental and compelling artwork from international galleries, including modern masters and the latest in contemporary paintings, drawings, sculpture, photography and prints from Europe, Asia, Latin America, India, the Middle East and the U.S.  This year, Art Miami will feature 28 new exhibitors, adding to the elite spectrum of galleries.  Now in its third year, CONTEXT will showcase 45 new exhibitors for its 2014 edition. "We are delighted to once again present and build upon the recent successes of Art Miami and CONTEXT, two distinct fairs that have truly become part of the cultural fabric of the city and Miami Art Week," said Art Miami Director Nick Korniloff. "The special programming, exhibitions and installations at Art Miami are world-class, and we're confident attendees will notice and enjoy each fairs' growth and progressive direction this year."
Curated exhibitions will be presented throughout the Art Miami and CONTEXT pavilions and outdoor courtyard. Highlights of this year's special programs include: Perceived Values, Hot Spots, The Director's Project, A Piece of Me, Art from Berlin, Miami Light Project, 1AN Symposium, a collection of unique Banksy works presented by Keszler Gallery, and a special auction of the official commemorative image created for Art Miami's 25th Anniversary by cultural icon Jerry Powers. "The exhibitions and programs at CONTEXT will be even bigger and more impressive than in previous years," said CONTEXT Director Julian Navarro. "In addition to showcasing a solid group of international galleries, CONTEXT is unique in that it will feature a series of solo artist projects, curated spaces, unique programming, conversations and events – all aimed to immerse and entertain our attendees."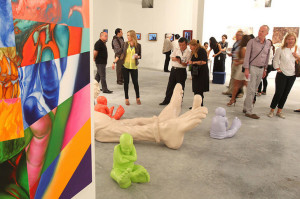 An auction of the official Art Miami 25th Anniversary commemorative painting will take place during Art Miami's VIP Private Preview on December 2, to benefit PETA.  The irreverent acrylic-on-reverse-canvas titled "Art Miami" was created by Jerry Powers, founder and publisher of Ocean Drive magazine and local cultural icon, who is making his debut as an artist with this piece.  Art Miami director Nick Korniloff also secured the piece to serve as Art Miami's 25th anniversary official limited edition poster, which will be sold through 

Swampspace Gallery

. Powers will also exhibit eight original pieces at CONTEXT through the duration of the fair.
Miami Light Project will partner with CONTEXT for the highly anticipated Opening Night VIP Preview. Latin Grammy Nominated artist/producer Mr. Pauer will perform an exclusive selection of his signature sound Electrópico™ filled with live percussion and an array of guest singers, turning the night into a memorable experience. Miami Light Project will stage a selection of performances that will take place in the CONTEXT Outdoor Garden Lounge daily during all general fair days.
The Children's Art Center will provide a safe, on-site playroom at Art Miami for children ages 3-13, who will be introduced to art while their parents visit the fairs. Kids enrolled in the program will have exclusive access to participate in activities including art explorations, games, puzzles and storytelling. The center will be open Wednesday through Saturday, 11am – 7pm. and Sunday 11am – 5pm.