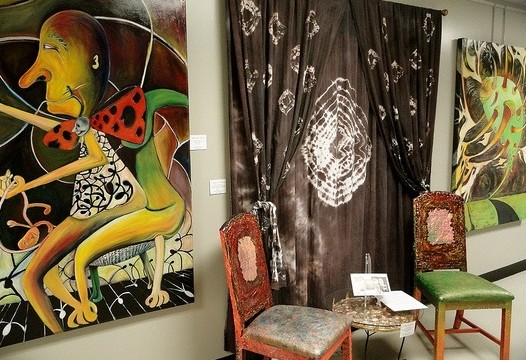 Art Talk with Miami-based artist Virginia Erdie
We recently sat down with Miami-based artist

Virginia Erdie

 in her Wynwood art studio at the

GAB

. Erdie is a fascinating and versatile artist who cares very deeply about social issues.  In fact a lot of her work depicts an unconscious stream of her social views and ideas projected onto a canvas, paper or wood, often making poignant or subtle statements about greed, corruption, social issues, and other things that seem to irritate her about the human condition.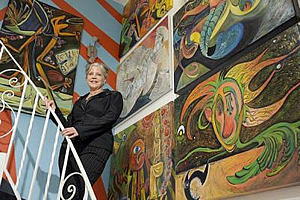 Q – How long have you been an artist and how did you get started?
A – I drew and entered competitions as early as age 8.  I got a little distracted during high school but began a professional career as an artist at age 23 until present.  I was accepted to The Maryland Institute, College of Art on scholarship in 1982, went for my MAAT at The School of the Art Institute of Chicago, and studied in London for one year on scholarship.  Once I attended art school, I knew I could never go back to the world from where I came.
Q – How has your style changed over the years?
A – Most of my earlier work is surreal and either dark in subject matter or color.  I worked as an art therapist with the criminally insane for years, and this affected my earlier works.  My newer works focus more on specific social issues such as sex trafficking, gender discrimination, the atrocities of war and sometimes the overall, unappealing qualities of the human condition.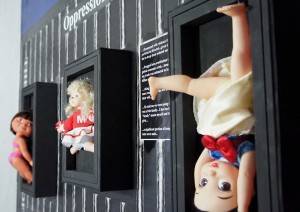 Q – Your Magic Chairs are real show stoppers, what was your inspiration for creating them?
A – Thank you.  I LOVE to cut, saw and build things!  I watched my father build things when I was a little girl – always following him around as he toiled over so many construction projects.    While was an artist at Studio 18 in the Pines, I had a vision of a throne and discussed it with the great sculptor, Michael Harris, who helped me build the chair foundations for both chairs.    Magic Chair represents the vanity of the feminine, with a huge mirror on back and gold, shiny surfaces.  I just got more and more into it and kept pushing the line, throwing molding paste and sawing wood.  Mythic Chair represents the powerful ego of the masculine, with a huge dragon in reds and blues painted on the back and life-like claws crafted from air-dry clay.  I'm now making a line of children's thrones as well.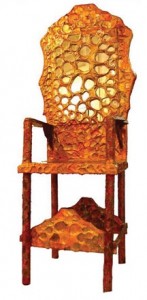 Q – Do you ever experience creative blocks?
A – I do experience creative blocks and, as all artists, find it distressing and sometimes depressing.  You ask yourself sometimes, "Why am I doing this?"  But then you always realize it is because it is the only thing that you enjoy doing.  Since I have had working studios, though, I am less apt to sit around the house and wonder what I should be doing.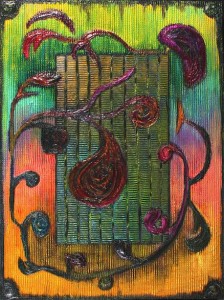 Q – What is your earliest memory of creating art?
A – I entered a State competition where I drew a Cardinal, West Virginia's State bird, and won the contest.
Q – You tend to build up your paintings with thick layers of material and rich color. How do you feel this impacts your work?
A – I'm crazy about texture…I like to get my hands into the molding paste and feel its crevices and peaks and valleys.  Magic Chair was made by throwing a lot of molding paste on top of a mirror and then subtracting away organic shapes with a spoon, leaving parts of the mirror uncovered so that the reflected image is broken.  This creates a fragmented experience, as our personalities are so very fragmented in a complex society.  Smooth surfaces bore me unless the imagery is powerful.  My work is either all about texture or all about imagery.  I don't use texture in a traditional manner.  I don't think I do much of anything in a traditional manner.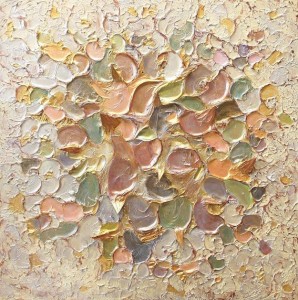 Q – What do you believe is a key element in creating a good composition?
A – I was taught proper composition through studies during my 6 years of art schooling.  But I think I've always had a knack for it.  Things should not be symmetrical unless the work is about symmetry.  One small dot of powerful color can be much heavier and monopolize more space on a canvas than large, darker areas.  Color contrast, shapes, line, all have to work together as a whole, creating a surface that the viewer finds tantalizing and interesting enough to travel with their eyes over and over again.  But the art work needs to have one or two resting spots, where the viewer can recollect their brain energy to move about once again.  It is very important, when making abstract, non-representational art, to turn the canvas around and observe that the composition works from all viewpoints.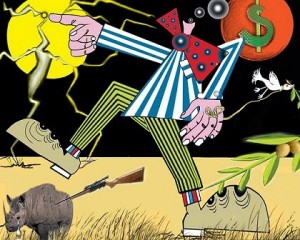 Q – How do you choose the subject of your paintings or creative endeavor?
A – Usually the subject matter chooses me.  Sometimes I am haunted by a vision or sometimes "Boom!" – I have to grab a pencil or pen and draw on anything at hand because there is something popping out of my brain, as though I'm getting information from outside the collective unconscious that needs to be depicted immediately.  Often I become obsessed with making social or political statements, which are more thought out and somewhat more intellectual.