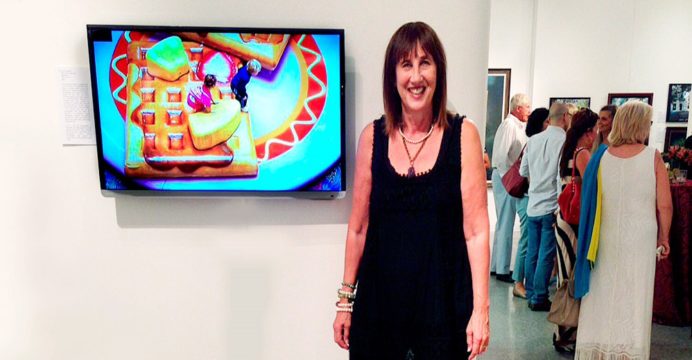 Artist Cheryl Maeder is a Pioneer of Art & Technology, Merging Photography, Video and Tech to Create Interactive Installations.
Visual Artist & Filmmaker Cheryl Maeder will be exhibiting her newest work at Art Wynwood with Galerie Mark Hachem, Booth AW507. The artist is at the forefront of art and technology, creating a never-been-seen before interactive installation of a limited edition photograph with video: Les Copines, Awakening, Photograph & Video Installation, 1/5.
Maeder's Abstract/Impressionist photographs have always stirred the emotions, however, she wanted to take her work even farther. Transforming from 2D to 3D, merging the photographer with the filmmaker, while blending stills with moving images. The artist combines the worlds of both art and technology into one unique and modern 21st century genre. Explore the video of Les Copines, Awakening, Photograph with Video Installation, 1/5.
"The artist has made a career out of creating work that is the opposite of what others are doing – shooting out of focus and fuzzy when the trend is hyper definition, aiming her lens at plus size women when the trend is super skinny; and projecting video when the theme is murals. But she makes it all work and makes her work stand out by doing so", said arts writer Sandra Schulman about Cheryl Maeder and her work.
The artist was recently selected for Canvas Outdoor Museum, a public art project within the City of West Palm Beach. Artists were selected from all over the world to participate in bringing art to West Palm Beach, Florida. The artist's team consisted of Cheryl Maeder & Marilyn Walter, who were selected to create Maeder's Celestial Babies Project for murals and the Celestial Babies Film Installation on shipping containers. To create an interactive installation, Maeder and her team created QR codes on two Celestial Babies murals. With the QR coding, viewers at the installation can link their phones to the actual Celestial Babies Film.
"The Celestial Babies Project is truly a collaboration. The magic in art and design occurs when it comes from inside/out. The Celestial Babies series has been a nine month project. Working with Krista Simpson, the ISR Infant Swim Instructor, the wonderful swimming baby Natasha Laramie, and her family; the incredible collaboration editing the Celestial Babies Film with Mary Tidy-Coyle and working with the entire team to make this project happen, has been a deeply rewarding experience", explained Cheryl Maeder.
Using photography to help others see life in a different and extraordinary way is the mission of artist Cheryl Maeder. You can learn more about this fascinating artist by visiting her website: www.maederphotography.com