Atelier Natalia Gromicho of Lisbon Presents Iranian Contemporary Art Exhibition 'Soft Silence of the Arts'
Atelier Natalia Gromicho

 is honored to present Soft Silence of the Arts, the first Iranian Contemporary Exhibition presented at the Lisbon, Portugal's Downtown art atelier. This outstanding group show consists of 21 artists selected by curator Gita Meh and with co-curators Safoora Esmaeil Nezhad, Salwa Zeidan Gallery. Enjoy a Private View when the exhibition opens on January 13th at 3pm, this special exhibit runs through January 19, 2018.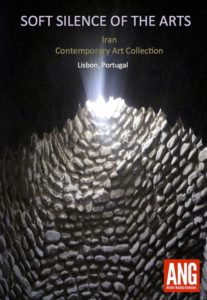 This first-time exhibition in Lisbon opens on January 13, 2018 with a private view featuring Iranian contemporary artists: Abdi Asbaghi, Safoora Esmaeil Nezhad, Mohamadhadi Fadavi, Parviz Heydarzadeh, Ramesh Hosseinilahiji, Nooshin Ipaktchi, Hamid Iravani, Karan Jannesari, Mahin Lotfmohamadi, Sara Medghalchi, Gita Meh, Miran Mobasheri, Abbas Mohammadpour, Mehdi Nabavi, Hani Najm, Tara Nazmalizadeh, Shokoufeh Noushiravan, Parvaneh Razaghi, Hamid Reza Farokhi, Mojtaba Rostami, Hero Sheikholeslamivatani.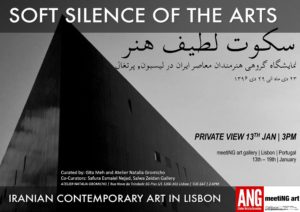 "Soft Silence of the Arts is a group exhibition of Iranian contemporary artists, offering meaning as they communicate through their visual voices. Silence means the Lake of sounds or a sound. Integrating cultures, through Iran and Portugal. Processing ideas. Reflecting imaginations. Exchanging glances. Hope. A sweet taste. In our noisy global world, communities connect softly, as the artist's narrate through their painting and photography the love of stillness, yellow, oil, ink, a symbol, a link, a flower, a note there in the corner, locating, a tile, near the Historical Monument, The Fernandina Wall, the Land of Turquoise, then the Silk Road continues, to Lisbon. We invite you to our world." – Curator Gita Meh. Banoo Sahra, Iran.
Atelier Natalia Gromicho

is located in Downtown Chiado – Lisbon, Portugal.
Address: Espaço Chiado, Rua da Misericórdia, 14 Piso S/L 1200-273 Lisboa.
Email: meetingartgallery@gmai.com
Mobile: +351 96 586 54 54
Open: Monday to Saturday, 2 – 6pm