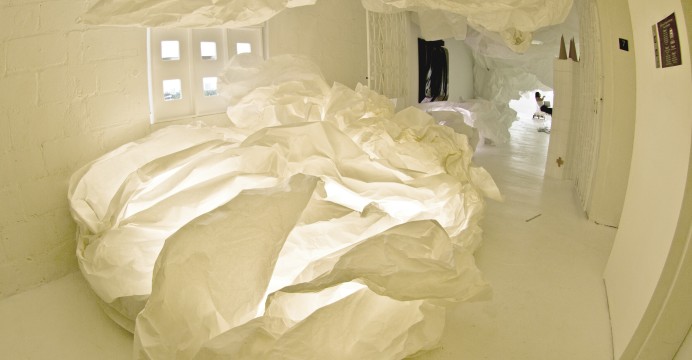 Downtown Project Miami's Immersive Art Installation #thecloudmiami at McCormick Place

The show explores the issue of the internet cloud and authorship. Every twist and turn of the cloud installation, whether suspended, glowing or cascading the floor, captivates the viewer and immediately stimulates dialogue and meaningful conversation.

At the center of the cloud hangs a video and audio installation, delving into concepts about personal space, human behavior and technology. We spent the last day of the exhibit lingering in the space and talking about the project with Karl-Francis Allen, feeling completely immersed within the installation and really wanting to understand the essence of what he has in store for the space. Enjoy our brief Q&A with the renowned artist and curator, while getting a glimpse of the energy behind his fresh, new innovative arts incubator in Downtown Miami.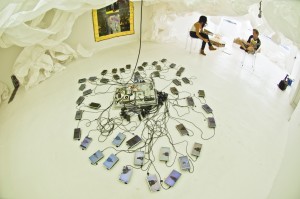 The Cloud Miami was developed and appeared in a 3,000 square foot studio space, all in white.  Its core element is the internet cloud, a space where data is stored, but in fact houses today's societal interaction. 

Reel paper was used to create the cloud, suspended from above. Art from a host of contributors was placed throughout the cloud, in some cases hidden to underscore their elusive presence within the cloud.

Data is often art itself and once art goes up on the cloud the artist loses ownership. Unlike art hung in a gallery, once it goes up to the cloud it is culturally understood that the work can and will be altered by others, re-expressed and used by others to follow an entirely new strand. So in this way the cloud Miami is about artistic ownership and expression.

"I was very specific about what pieces were selected from the various artists. It was not by subject matter, but by degree of finish or artist satisfaction with the outcome", explained Karl-Francis Allen, Founder of Downtown Project Miami/Curator of The Cloud Miami.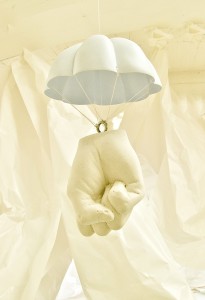 The works included were those that were lost in translation, unfinished or somehow lost pieces whose original intent gave way during the process of development. The Cloud Miami was finished with the addition of cloud people, search engines if you will, who were all in white.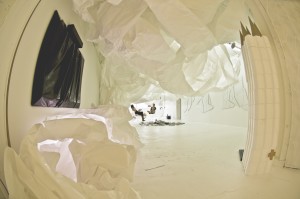 The cloud proved to be a participant experience, and while for some people the cloud was lost in translation, one thought it heavenly another meringue, but all seem to get lost in the cloud nonetheless. The space was designed to serve as an experimental space for site-specific projects and alternative art forms. To learn more about #thecloudmiami have a peek at this video, it captures the installation, artists and art pieces beautifully.

Exhibited projects are based on reactions, reflections or responses to the McCormick Place building and the role it plays in its surroundings and the downtown Miami area.

The project aims to continue it's evolution and expand the concept. Stay tuned for upcoming opportunities and Calls To Artists for emerging artists and designers from Downtown Project Miami.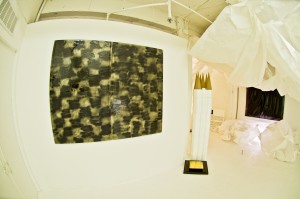 Q&A with Karl-Francis Allen: Founder of Downtown Project Miami, renowned visual artist and lead curator of #thecloudmiami.
MAS: We love what you're doing in this space, how long have you been in Miami?
KFA: I'm here less than a year, straight from London – although with a brief stay in Manhattan. I originally planned to settle in either the SoHo or Chelsea neighborhoods, but felt like something was missing. Happened to take a brief holiday to Miami and the vibe felt great. Places are growing, so much is happening here and I found it really exciting. I love all the different neighborhoods and flavors of Miami, it's like a huge melting pot where everyone is close to one another, with a very european feeling in the air. There's a real sense of community here, I wanted to be a part of it and quickly shifted gears from Manhattan to Miami. The project took on a life of it's own, we plugged ourselves in at McCormick Place and launched #thecloudmiami for DwnTwn Art Days, September 11-13, 2015.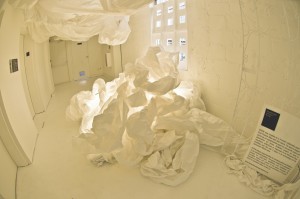 MAS: What do you hope to see evolve here, what's next for the Downtown Project Miami?
KFA: We're doing something fresh and innovative here, I'm seeking totally immersive concepts or things of similar scope and nature. We'll be challenging visual artists to propose their ideas for this style of work.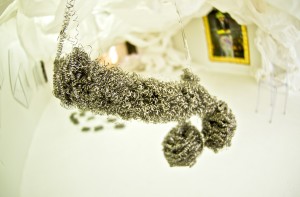 MAS: Your own personal art is very expressive and your technique is so interesting, can you tell us about your work?
KFA: My work is typically a blend of two extremes – very expensive materials and found, reclaimed objects. Could be collage, mixed-media assemblage, video or photography, or other mediums, but my work stays true and takes shape through materials of all forms, from the playful use of every day items to the application of fine art techniques, each utilized to evoke specific feelings and ideas from the viewer. My collections vary in design and fabrication, but always with a deeper underlying purpose and thought-process going on. Much of my work is strung together under a playful and amusing sub-text.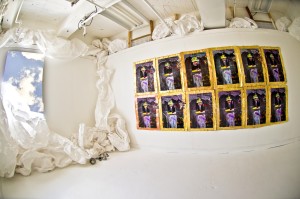 MAS: You mentioned the idea of a Call To Artists for Downtown Project Miami, give us the details so we can make an official announcement.
KFA: Yes, we've just disassembled #thecloudmiami and I'm in the process of organizing our upcoming call for new submissions. When I'm ready to go, we're on!