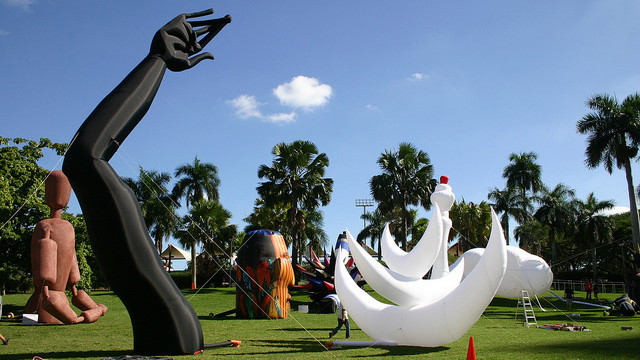 Enter Another Dimension When Giants in the City Comes To Bayfront Park for DwnTwn Art Days
Lose yourself in an outdoor "Alice in Wonderlandesque" public art exhibition when Giants in the City comes to Bayfront Park in Miami during DwnTwn Art Days September 11-13, 2015. A traveling public art exhibition of massive inflatable sculptures, whose proportions were deliberately designed to create an atmosphere of colossal artistic expression. The sculptures powerfully transform their immediate space and time with profound meaning and symbolism, creating long lasting inspiring dialogues between the work and the spectator.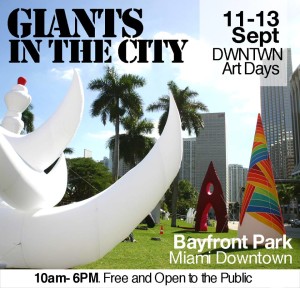 The upcoming monumental exhibit will take place at Bayfront Park, 32 acres of stunning beach and water views in Downtown Miami along Biscayne Bay. The perfect setting for entering into another dimension when Giants in the City comes to town. The event is part of the larger framework of the Miami DDA's DwnTwn Art Days. This year marks the 4th edition of Downtown Miami's exclusive arts & cultural celebration, which will feature more than 60 events, performances, installations and art exhibits throughout the urban core.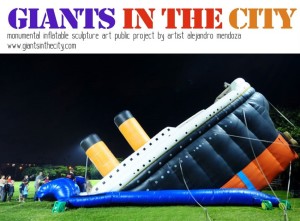 Giants in the City has been participating in DwnTwn Art Days since the beginning and quickly became a highlight of this annual, city-wide art event. The project was founded by Miami-based visual artist Alejandro Mendoza, produced and organized by Irreversible Art Projects. "I wanted to create social interaction and dialogue that can lead to a sense of social cohesion," said the renowned artist and curator. The project has been traveling the globe extensively since 2008, showcasing the colossal inflatable sculptures to audiences in places including Monte Carlo, Key West, Mexico City, Miami Beach and more. "Giants in the City was created to encourage interactive activities and relaxation, contemplation in nature, heightened perceptions and the process of creative thought," explained Irreversible's Noor Blazekovic, who curates the project alongside Mendoza.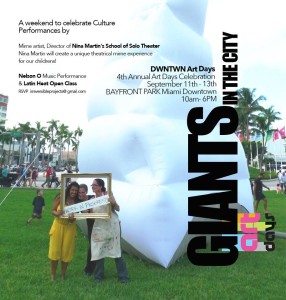 Bayfront Park is located at 301 Biscayne Boulevard in Miami, Florida 33132, featuring Giants in the City from 10am – 6pm during DwnTwn Art Days September 11-13, 2015. The event is a free, family-friendly experience and open to the public.