de la Cruz Collection: Progressive Praxis
November 29, 2016 @ 10:00 am

-

4:00 pm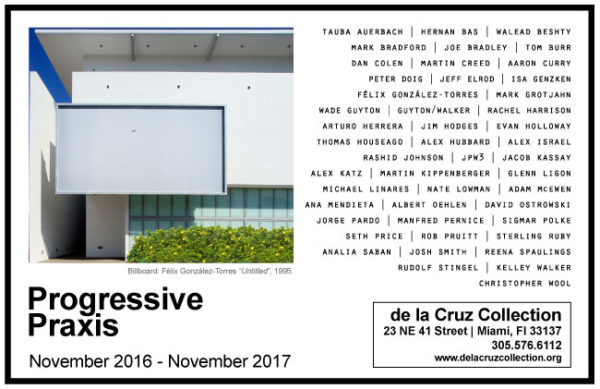 Tuesday, November 29th the de la Cruz Collection presents their 2017 exhibition, Progressive Praxis. By merging a variety of styles and mediums, the works selected for this year's exhibition mirror contemporary culture while allowing an open-ended conversation of various interpretations and possibilities. The context of this exhibition is to create a critical understanding of our shifting visual culture. Runs from November 29th, 2016 through November 2017.
'Progressive Praxis' considers the impact of preceding art movements and how contemporary artists conceptually engage with the advancements of technology. Our society is conditioned to create, disseminate, and alter information as they see fit. The use of computers as a method of executing work is no longer a game changer for artists, as there are no traditional boundaries between the virtual and physical. Artists today embrace technology to overcome the limitations of physicality and past formal art processes. The artists selected for this exhibition reveal a generational position that is inherent to an artistic idea and language of their time. The works in the exhibition create a dialogue between past and present. The exhibit also emphasizes the relationship between object and space, as the architecture of the galleries was taken into consideration in framing this exhibition.
Special hours during Art Basel Miami Beach, Tuesday, November 29th through Saturday, December 3rd, 2016 are 9am to 3pm. Admission to museum, lectures, events and all educational programs are free of charge. Museum hours: Tuesday through Saturday, from 10am to 4pm.