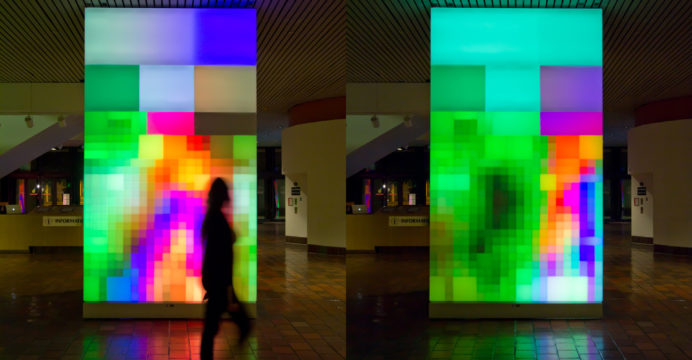 Exclusive Art Installation by Artist Ivan Toth Depeña at Spotify's Clarify Miami Exhibition
Spotify presents Clarify, a series of exhibitions that explore the connection between music, art, and politics. Enjoy an Opening Reception + Talk on Tuesday, October 18, 2016 at 6:30pm featuring a conversation about the intersection of art, music and climate change. Leading up to the November election, there will be 8 exhibitions in 8 cities around the United States, each one taking on one of today's key political issues. Join us in Miami for an exclusive art installation by Ivan Depeña plus a conversation about the intersection of art, music, and climate change.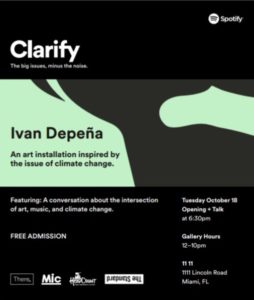 Ivan Toth Depeña is an artist who is currently living and working in Charlotte, North Carolina. With a Masters Degree in Architecture from Harvard University's Graduate School of Design, Depeña's production is informed by his experience in art, architecture, technology and design, and encompasses a range of media. Depeña pursues the intersection between different disciplines with the aim of choreographing the moment when these aspects come together seamlessly. Using traditional avenues such as drawing, painting and sculpture then interweaving interactivity/responsiveness, video, light and high-tech methods of fabrication, Depeña explores the fine line between chance and intention.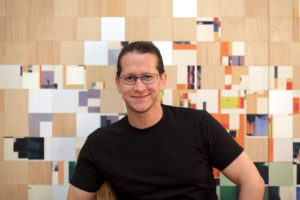 Although Depeña has been working increasingly in the public realm, he maintains a rigorous and experimental, self directed studio practice. He has exhibited extensively, nationally and internationally, in both solo and group exhibitions, including at the McColl Center, NC; Praxis NY, NYC; New Britain Museum of American Art, CT; Miami Art Museum, Frost Art Museum, and the Palm Beach Institute of Contemporary Art, FL. Depeña has recently completed large-scale public commissions in New York, NY; Denver, CO; Albuquerque, NM; Gainesville, and Miami, FL. His work is held in numerous public and private collections.
In early 2014, he was awarded a prestigious Knight Arts Challenge Miami Grant for his proposal for a first of it's kind series of augmented reality public art projects throughout South Florida called "Lapse". Depeña is also currently a finalist for the renowned Cintas Fellowship 2016-2017.
Combining many sources of media, technology, form and materials, Depeña seeks to blur boundaries and create work that exists within a new and amorphous hybrid of various creative disciplines.
Past exhibitions include, 'Aesthetics and Values 2011' at the Frost Museum in Miami, 'Miami in Transition' at the Miami Art Museum and various group and solo exhibitions throughout the United States. 
Depeña 
is the recipient of several grants including the 'South Florida Visual + Media Artist Fellowship Grant'. He has completed residencies at the Atlantic Center for the Arts in Florida and the Digital Sculpture and Public Art Residencies at the School of Visual Arts in New York City.
Join us for Spotify's Clarify exhibition at 11 11 Lincoln Road on Miami Beach opening on Tuesday, October 18th at 6:30pm. 11 11 is a unique shopping, dining, residential and parking experience located at the gateway to Lincoln Road's pedestrian promenade. The exhibition features an exclusive art installation by
Depeña

plus a conversation about the intersection of art, music, and climate change. Free Admission and Gallery Hours are 12noon-10pm.