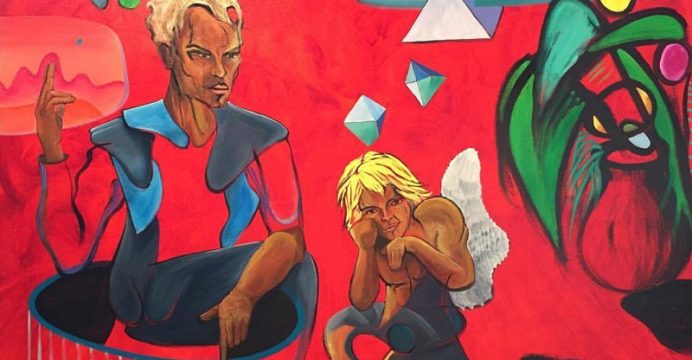 Experience the Metaphysical Work of Miami-based Artist Cedrik Cavallier
Contemporary artist

Cedrik Cavallier

 was raised in Provence, France and grew up in the heart of a city surrounded by a rich history that inspired legends like Van Gogh, Cézanne and Picasso. These deep colors of nature are instilled in Cavallier's character and shine through his creations with great force.
 
His art explores a more profound, metaphysical understanding of humanity, representing a visual transcendental experience. Cavallier strives for his paintings to evoke many types of sensations, and not merely those visible to the eye. "Art is not about what you see, but what you make others see," explained the artist.
After studying at Les Beaux Art in Avignon, Cavallier worked in many places around the world such as Djibouti, Mexico, Mali, Zanzibar, Sri Lanka and Ethiopia. These priceless, enriching experiences opened his eyes to the authentic realities and cultures that exist in the world, allowing him to touch the hearts of people from all walks of life.
"I believe in culture, and I work hard to make sure that it is reflected in my work", said Cavallier. There are many ways in which he accomplishes this; an interesting example is Cavallier's exclusive use of Chinese brushes and black oil to paint his signature in black outlines, which shows his appreciation for the wonderful artistic force of the master calligraphers of China.
Cavallier's work speaks for itself. His art has been evolving and transforming from a raw, insatiable passion, resulting in many years of extensive education and pictorial research. This deep background allowed Cavallier to craft a unique style, which captures the essence of his own profound, esoteric nature. His work is a visual expression of himself, an extension of a non-physical realm, which Cavallier is translating into an illuminating image for us to examine and ponder.
Cedrik Cavallier's work gives us a fascinating glimpse into a futuristic type of transcendental reality. The artist has an upcoming exhibition planned at Viernes Culturales Gallery in the

Futurama Building

in November, and he will also be exhibiting his newest series of works at

Superfine! Art Fair

this December 6-10, 2017 during Art Basel Miami Week.
Learn more about this captivating Miami-based artist by visiting 

www.cedrikcavallier.com

. Visit his art studio located in the Wynwood Arts District, by appointment only, at 150 NW 54th Street in Miami, Florida 33127. For sales and inquiries, or to commission an art piece, contact the artist at 

cedrik@cedrikcavallier.com

 .