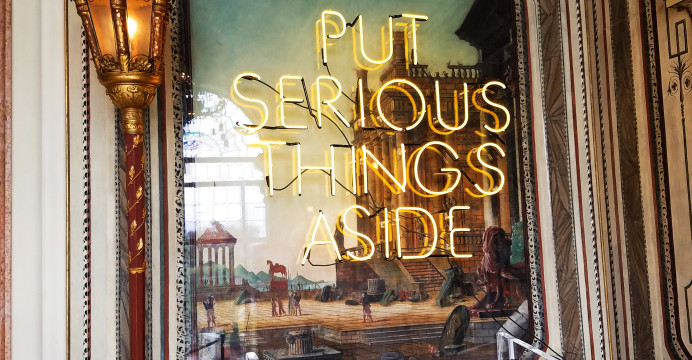 Exploring Forgotten Spaces at the Vizcaya Estate
Vizcaya Museum and Gardens is a National Historic Landmark that preserves the Miami estate of agricultural industrialist James Deering to engage our community and its visitors in learning through the arts, history and the environment.
Built between 1914 and 1922, Vizcaya is one of the most intact remaining examples from this era in United States history, when the nation's most successful entrepreneurs built lavish estates inspired by the stately homes of Europe. Vizcaya features a Main House, 10 acres of formal gardens, a rockland hammock (native forest), mangrove shore, the Vizcaya Café and Shop.
Inspired by the museum and gardens' upcoming centennial, Gina Wouters, the curator of the Contemporary Arts Program conceived of Lost Spaces and Stories of Vizcaya as a two-phase showcase.
Phase I opened May 5, 2016 and provides visitors with an idea of the life that Deering, his guests, family and servants would have experienced at this luxurious estate from 1916-1925. Eleven local artists were selected from approximately 100 applicants to bring the lost spaces and stories of Vizcaya to life through mixed media art forms and installations.
Lost Spaces and Stories of Vizcaya marks the 10th anniversary of the Contemporary Arts Program (CAP), a Vizcaya-based commission program that invites artists to develop work inspired by the estate for onsite exhibitions.
CAP draws on the spirit of creative dialogue that characterized Vizcaya's founding, continuing Vizcaya owner James Deering's patronage by engaging contemporary artists to create site-specific works that explore the estate in new and intriguing ways. From painters John Singer Sargent and Gari Melchers, both house guests, to sculptor A. Stirling Calder, responsible for the figures on the Barge, Vizcaya consistently has been a source of inspiration to artists.
Phase I will be on view from May 2016 through May 2017 and features Duane Brant, Amanda Keeley, Juraj Kojs, Lucinda Linderman, David Rohn, Magnus Sigurdarson and Frances Trombly. 
Phase II will be on view from December 2016 through May 2017 and features Brookhart Jonquil, Mira Lehr and Yara Travieso, Kerry Phillips and Leyden Rodriguez Casanova.
CAP is generously supported by the Danielson Foundation; Deering Foundation; Chauncey and Marion D. McCormick Family Foundation; the Miami-Dade County Mayor and Board of County Commissioners; the State of Florida, Department of State, Division of Cultural Affairs, and the Florida Council on Arts and Culture. 

Please visit www.vizcaya.org for a listing of public tours and programs related to Lost Spaces and Stories of Vizcaya and for more information about CAP. 3251 South Miami Avenue in Miami, FL 33129 / between Brickell Avenue and Coconut Grove.