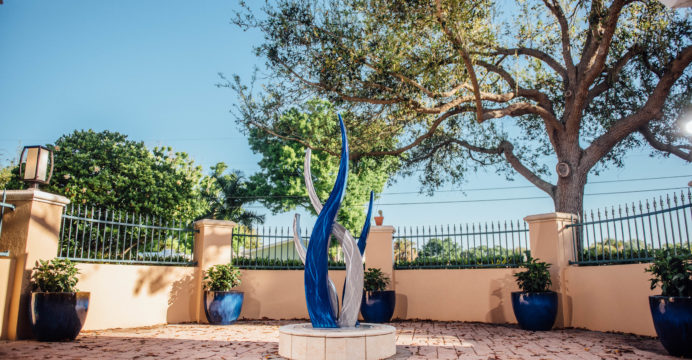 Fine Metal Artist Dustin Miller Creates Exquisite Residential, Public & Corporate Sculptures
Renowned contemporary sculptor Dustin Miller of Abstract Metal Design creates elegant sculptures from concept to reality. "Every sculpture starts as an original design concept. The main goal is not just to make an awesome piece of art, but to create a landmark for my clients. From shape, color and material, the metal sculpture will be just right for the space," explained the artist, whose work resides in public and private collections around the world.

A self-taught modern metal artist based out of the Tampa, Florida area, Miller is the founder and featured artist of Abstract Metal Design.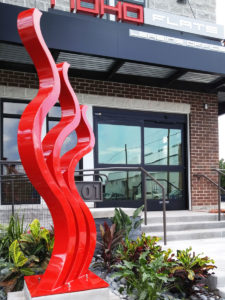 He is known for his exquisite residential, public and corporate sculptures of aesthetic perfection that grace countless homes, office spaces and landscapes.

The artist uses a variety of metals to create his works, from stainless steel, aluminum to copper; with numerous finishes, patterns and textures to choose from.

Originally from Quincy, Illinois where he learned the basics of art, woodworking and metalworking with his father since he was 5-years-old, Miller's love of modern design keeps him focused on modern, contemporary sculptures that beautify both indoor and outdoor environments.

The sculptor has a strong business acumen with a positive reputation in the art and design industry, known for his professionalism, skill and talent. He is the recipient of numerous design awards and has participated in many public art projects across the United States with an extensive roster of residential and commercial clients.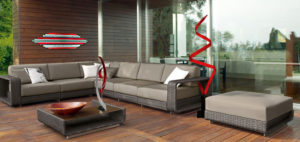 In June of 2015, Ryan Hughes Design Build commissioned the artist and contemporary metal sculptor to create a contemporary stainless steel sculpture that would be part of a fire feature. The sculpture was created from 100% stainless steel, each piece had to be cut into a unique shape and rolled to a circular motion to be welded at the seems.

The pieces were woven in and out to create more dimension and give the overall shape it's structure. The pedestal is a propane powered concrete pedestal that the sculpture was mounted to, which at the time contained lava rock below it. The fire flows through the piece giving it a vibrant and contemporary look.

The orb sculpture was recently part of an HGTV Outdoor Award Winning Design for "Water, Water Everywhere Category" of the 2016 HGTV Ultimate Outdoor Awards.

Dustin Miller creates sculptures for any type of space using the best materials for weather resistance and longevity. Working with various types of metal, creating dynamic and stunning shapes that are appealing from various angles, he is always keeping pieces colorful or deep in texture.

The creative process has many phases from conception to completion, Miller is masterfully skilled in every step from design to installation, being sure not to stray from using a style that makes a statement.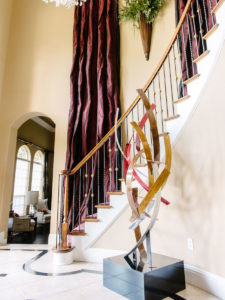 For more information about this artist, to commission a piece or make an inquiry, please contact dmiller@abstractmetaldesign.com / Learn more about this masterful sculptor at www.abstractmetaldesign.com 
Photography Credit: Jonathan Fanning