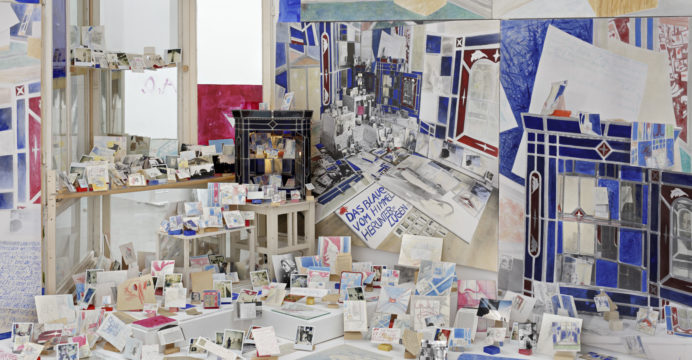 ICA Miami Commissions Six New Works For Its Permanent Home In The Design District
The Institute of Contemporary Art, Miami (ICA Miami) announced the debut of six large-scale artist commissions created for the museum's 2017 inaugural program, including new work by Allora & Calzadilla, Abigail DeVille, Charles Gaines, and Chris Ofili, and Miami artists Mark Handforth and Tomm El-Saieh. Ranging from large-scale painting to site-specific installation, these commissions spotlight trailblazing artists at different stages of their careers, and reflect the museum's continued commitment to providing an international platform for a wide range of contemporary artists with innovative and experimental approaches to their practices. The new works will inaugurate the sculpture garden and ground-floor galleries of ICA Miami's new permanent home, opening on December 1, 2017 in advance of Art Basel Miami Beach.

"The commissioning of new work for ICA Miami's inaugural program embodies our commitment to supporting experimentation in artistic practice and engaging our audiences with a broad spectrum of perspectives and ideas," said Ellen Salpeter, director of ICA Miami. "Through free general admission, all audiences and backgrounds throughout the Miami-Dade region will have the first opportunity to experience new, thought-provoking works of art that stimulate conversation and advance the appreciation and understanding of contemporary art."
The museum's six ground-floor galleries will feature a combination of long-term and rotating exhibitions, including two of the new commissions, works from ICA Miami's permanent collection, and a space dedicated to temporary scholarly exhibitions that build upon key master works in the museum's collection. The ground floor opens into the 15,000-square-foot sculpture garden, the museum's central gathering space, which will showcase an annual schedule of site-specific commissions, gifts, and long-term loans, including major sculptural works by both post-war and contemporary artists.
Fully utilizing the museum's expanded space, ICA Miami has also commissioned Charles Gaines to create a dramatic two-story installation for the museum's main passageway between the second and third floors, which will feature an annual rotation of site-specific commissions. Gaines's practice places him within the legacy of conceptualism, evidenced by works such as his gridded, serial images of trees painted on Plexiglas. Activating the staircase's vertical cantilevers, the site-specific installation will explore the artist's application of seriality on a massive scale.
In addition to these large-scale works, a series of new paintings by Haitian-born, Miami-based artist Tomm El-Saieh will inaugurate ICA Miami's new signature project space on the ground floor. Dedicated to debut solo museum presentations by emerging and under-recognized artists from around the world, the project space will feature commissions of site-specific or experimental works created in response to the flexible gallery. Rotating three times per year, the project space continues the museum's commitment to providing critical exposure for up-and-coming international talent and bringing a range of emerging artistic voices to the forefront. For El-Saieh's solo museum debut, he will create a suite of new paintings that explore the connections between abstraction and the Haitian tradition of narrative icon painting, on view through February 2018.
"With the expanded space in our new home, ICA Miami is able to build on our commitment to championing alternative narratives in contemporary art across generations." said Alex Gartenfeld, deputy director and chief curator. "We are especially proud to feature two Miami artists, Mark Handforth and Tomm El-Saieh; and to inaugurate our new project space as a continuation of the museum's strong focus on emerging artistic voices."
Anchoring ICA Miami's inaugural program is the major survey, The Everywhere Studio, presented in the museum's second- and third-floor special exhibition galleries, which overlook the sculpture garden. Featuring over 100 works by 50 artists from the past five decades, such as Roy Lichtenstein, Bruce Nauman, Carolee Schneemann, Matthew Barney, Rosemarie Trockel, and Neïl Beloufa, the museum's inaugural exhibition will explore the evolution of the artist's studio from the post-war period to present day. Marking the most ambitious and broad-ranging survey ever mounted by ICA Miami, The Everywhere Studio represents ICA Miami's expanded curatorial mission in its new home, which will juxtapose the works of leading, emerging, and under-recognized artists to create intergenerational dialogues.