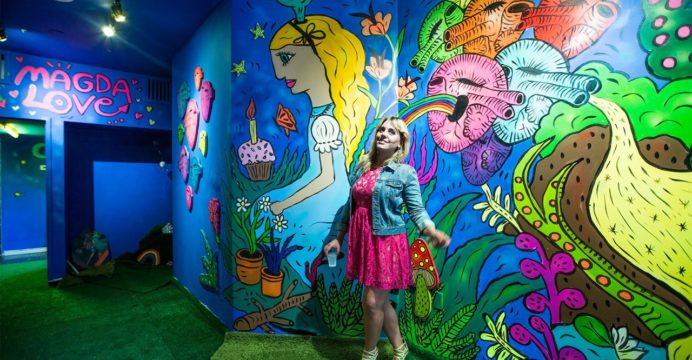 In Love With The Amazing Magda Love
Known for her colorful street art murals and large-scale public works, Magdalena Marcenaro, aka Magda Love, forms deeply textured and colorful narratives, joining joyful and nostalgic images with emotional moments. The artist was born in Argentina, but she has lived and worked in New York City for more than a decade now. Her aim is to inspire dialogue about personal experience and prompt a thoughtful pause in the roller coaster of life. Her work wishes to inspire us through her travels, her memories; exposing vulnerability, strength, nostalgia, sorrow and joy.
There is power in the juxtaposition of both media and individual pieces of Magda's oeuvre. The global street artist has painted murals in Buenos Aires, Guadalajara, Mexico City, New York, Cuernavaca, Tulum, Playa del Carmen and Wynwood Miami, the list goes on. Gallery works include her solo exhibition at Gowanus Print Lab, group shows at the Scope Foundation, Vice Gallery Miami, Freshly Baked Gallery, RoX Gallery, Exit Room, IFAC New York, Residency Unlimited at Cutlog Art Fair, Miguel Paredes Gallery, Peanut Underground, BOOM and The Urban Folk Art Gallery. She has participated in numerous mural festivals such as Muros in Blanco, Welling Court, Meeting of Styles Mexico and Wynwood Block.
Magda Love teamed up with Extra Butter to create a playful, art installation and interactive mural. "All in The Golden Afternoon" is an invitation to the viewer to create their own wonderland. Inspired by the movie Alice in Wonderland, Magda takes us on a journey of childhood, vision, and invites us to be part of their magical dreamland. Extra Butter is a minimalist boutique in New York City featuring on-trend men's & women's streetwear clothing, sneakers & accessories from top urban clothing and streetwear brands.
In 2015 she was invited to participate in TedX Fulton Street, where she painted on stage. She is an ongoing collaborator with a variety of educational institutions such as City As High School, where she instructs workshops and mentors students.
Love has been invited to teach workshops and create a mural in partnership with Arts in Motion and Beauty For Freedom in Cambodia.
She has worked and collaborated with several companies including Brooklyn Industries, Shut Skateboards, Nu Hotel, Modern Sky Music Festival in Central Park, Governors Ball Music Festival, Vidiots TV, The Surfrider Foundation NYC Chapter, Build it Green NYC, Burger Joint Buenos Aires, The Library (NYC), Elemental Store Miami to name a few.
Her work has been featured in a plethora of magazines and publications, some of which include Complex Magazine, New York Ink, Artphibia art series, 12 Canvases documentary, Art is Life Documentary, News 12, Time Out NY, Vandalog, ArtNerd New York, Brooklyn Street Art, 12oz Prophet, Brooklyn Eagle, The Brooklyn Paper, Street Art NYC, All City Canvas Blog, Buenos Aires Street Art, DNA Info, The Brownstoner, XO Magazine and more.
Most recently the artist was published in The Source for the launch of one of Red Bull's latest art offerings, a three-part web series surrounding the inspiring narratives of three powerful women making significant marks in the realms of entertainment and the arts. The project features global street artist Magda Love, and the aptly-titled MAVENS series gives viewers a glimpse into the ordinary journey of the extraordinary women.
"Powerful content and storytelling about strong women today is very critical," said Love to The Source. "Media in general usually portray female power only through sexuality and not through our talents, our commitments to our communities, our struggles, our intelligence or our journeys."
We had the pleasure of meeting this talented artist a couple of months ago at the Blank Canvas Gallery in Wynwood where she was painting an exquisite mural during an opening reception. Guests and collectors were able to experience the artist live in action.