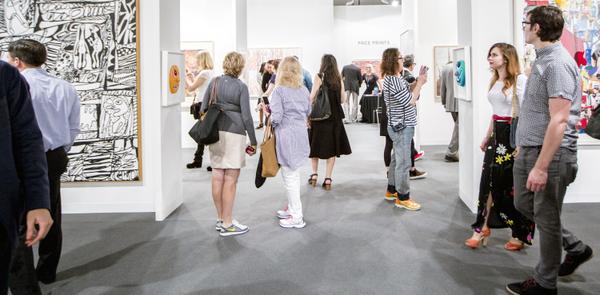 Premier line-up of international galleries announced for Art Basel's 14th edition on Miami Beach
Art Basel today announced the gallery list for its 2015 edition in Miami Beach, comprising 267 leading international galleries drawn from 32 countries across North and South America, Europe, Asia and Africa. 29 galleries are completely new to the Miami Beach show. The fair, whose Lead Partner is UBS, takes place at the Miami Beach Convention Center from December 3 – 6, 2015 bringing together gallerists, artists, collectors, curators, museum directors and critics from across the globe. As the premier show of the Americas, Art Basel's Miami Beach show presents established and emerging galleries from the United States, Argentina, Brazil, Canada, Colombia, Mexico, Peru and Uruguay alongside many of the most important galleries from Europe, Asia and Africa. In total, half of the participating galleries have exhibition spaces in the Americas.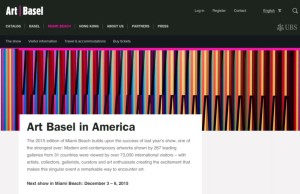 South Florida's leading museums again time their strongest exhibitions of the year to coincide with Art Basel. Visitors from across the world will also have the opportunity to view the city's internationally renowned private collections. This includes much anticipated exhibitions at the Cisneros Fontanals Art Foundation (CIFO), the de la Cruz Collection Contemporary Art Space, the Margulies Collection at the Warehouse and the Rubell Family Collection.

In December the Pérez Art Museum Miami (PAMM) will present 'Nari Ward: Sun Splashed', 'No Boundaries: Aboriginal Australian Contemporary Abstract Painting', 'Firelei Báez: Bloodlines', and project galleries by Sheela Gowda, Jeff Wall, Nicolas Lobo and Bik Van der Pol. The Institute of Contemporary Art, Miami (ICA Miami) will present 'Shannon Ebner – A Public Character' and 'Alex Bag – The Van (Redux)' while NSU Art Museum Fort Lauderdale will show 'Pablo Picasso: Painted Ceramics and Works on Paper, 1931-71', 'William J. Glackens: A Modernist in the Making', 'The Indestructible Lee Miller', and 'Revolution of the Eye: Modern Art and the Birth of American Television'. Other highlights include 'Margin of Error' and 'Philodendron: From Pan-Latin Exotic to American Modern' at the Wolfsonian-FIU; 'The Summer of '68: Photographing the Black Panthers', 'Vincent van Gogh's The Poplars at Saint-Rémy', 'Edgar Degas' Portrait of Mlle. Hortense Valpinçon' at the Norton Museum of Art; and 'Carlos Salas: Latin America and the Global Imagination' at the Museum of Contemporary Art (MOCA). As the Bass Museum of Art is undergoing renovation, it has instigated bassX – a series of artists' projects, exhibitions, events and education programs – in the Miami Beach Library, directly across from the museum. In December bassX will present a new performance by Sylvie Fleury.