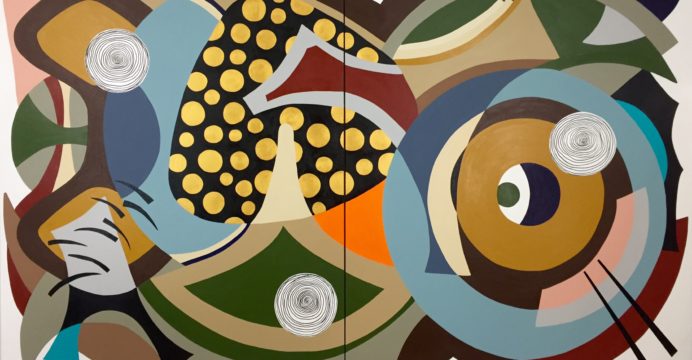 South Florida Art Star Amauri Torezan Inspires Us With His Minimalist, Retro Abstract Style
Brazilian-born artist Amauri Torezan creates impressive geometric and organic compositions evoking a sense of depth, as though the flatly painted shapes were eternally suspended in space.

His influences range from the work of the pioneers of abstract art to the Brazilian modernists, not only in the visual arts, but also architects such as Oscar Niemeyer and the landscape designer/painter Roberto Burle Marx. 
Torezan's career has elevated to new heights, his work is being exhibited in art museums, prestigious shows and art fairs worldwide. During Art Basel Week Miami in 2014 at the Conception Art Fair, Torezan was invited by the master sculptor Gino Miles and art curator Rachel Wilkins Blum to be part of the Global Code Project.
The project is a traveling exhibition throughout the United States, introducing the evolution of communication to the American youth through painted sculptures made by artists who are making an impact with their work. In February of 2015, Torezan was invited to participate in a live painting of a second sculpture for the Global Code Project at Art Wynwood in Miami.
Torezan developed his unique style by creating hard-edged compositions inspired from representations of the future produced in the Mid-20th century.
In his paintings, geometric and organic forms seem to be floating around each other allowing the viewer to experience another dimension of color and depth.
The artist exhibited at the Old Town Hall in Chelsea, London during the UK's Parallax Art Fair in July of 2015. In November that same year he was invited to participate in the Canvas WPB local showdown, as the West Palm Beach Community Redevelopment Agency had commissioned Torezan along with six other artists to paint individual murals in the arts district of the Northwood neighborhood.
During Art Week in Miami 2015, Torezan's work was juried into the #SAVEARTSPACE public art exhibition in Wynwood. A non-proft organization transforming advertisements into public art, designed to bring more art into outdoor spaces of the community. That very same week h
e was also commissioned to paint a mural on the entrance wall of the Conception Art Fair in Wynwood during Art Week, where he had paintings on exhibit.
In late December last year Torezan's works were selected by The Baker Museum curators for the exhibition Florida Contemporary 2016, which was on view from January through April of 2016.
During the inaugural Art Boca Raton fair March 18-21, 2016 Torezan had works exhibited by the prestigious Sandra Neustadter Gallery alongside masters of modern art like Pablo Picasso, Joan Miro, Alexander Calder, Frank Stella, Alex Katz among others. His work was also shown at the juried exhibition Art Forma presented by Art Synergy at Art Boca Raton as well. Keep your eyes on this local contemporary art star as his career continues to expand and grow.