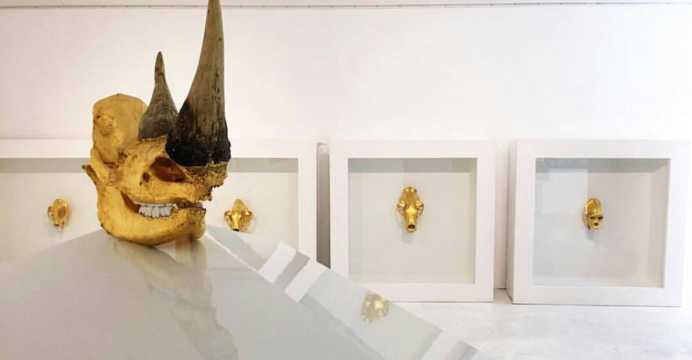 Talking Art With William Rosewood
We recently had the pleasure to sit down and chat about art with William Rosewood, a talented artist and fine arts graduate from the Willem de Kooning Academy, February 2015. It was here where Rosewood learned the artistry in commercial image-making. Yet he doesn't have many fond memories of his time at the academy, "I became rebellious towards the simple-minded ideas that were generally accepted", said Rosewood. Assuredly he went against the grain and maintained and created his own perception, developing a particular interest in exploring and pushing the limit of what is possible. This expressed itself not only in painting, but also in experimenting with different materials. Rosewood created his own unique characteristic style in which he combines the usage of unconventional materials such as blood with large visualizations.
In June 2015 Rosewood began to work on his first exhibition: 'The Richness of nature we destroy'. This series focuses on nature's strength that often is underestimated and forgotten, it is here that Rosewood combines death with 24 carat gold to symbolize the resurrection of nature's richness. After his solo exhibition in Miami 'Goldrush', he experienced a lot of attention for a young artist doing what he loves the most, telling his story through art. He traveled throughout the UAE and produced new collections: 'PI=INFINITY', 'She Loves Me She Loves Me Not', and 'Verum Colores'.
Q – How long have you been making art, how did the legacy begin?
A – As far back as I can remember, from the day I was born (huge grin). I didn't become an artist, I'm doing what I love the most. The only thing I needed to do was stick with it. Back in the days when I was a kid, about 6-years-old, every morning before I went to school I drew and sketched things, and from that day I never stopped doing this. After High School I applied to the "Willem de Kooning Academy", which is where I learned to commercialize my work. After the academy I searched for more freedom in my work and started to create pieces on my own beliefs.
Q – What inspires you?
A – Inspiration is not something you can put your finger on. It's the fine line of life, crossing your everyday environment. Actually for myself I can get inspiration out of the smallest things. Picture this: I see or hear things when I'm walking on the street or listening to the radio; all of this I'm using to create an art piece. I get inspiration from music a lot, because when I'm in the studio it's always playing, old records even on vinyl, just to get the extra stuff that counts. Next to that I read about the old masters and history but also new contemporary art, trying to absorb and understand the meaning. But mostly studying my own books about art history is what I love to do, it teaches me about background, techniques and certain timelines – symbolism and meanings are key in this.
Q – What's the first artwork you ever sold?
A – A piece from "The Richness Of The Nature We Destroy" Collection.
Q – Is there an art piece of yours that you're most proud of? Why?
A – 'She Loves Me, She Loves Me Not', an amazing art piece with over 200,000 daisies painted by hand – my hand. Sweat and tears to create but meaningful about love or no love at all. It's a triptych which took over a few months to create, I worked on it more than 14 hours a day sometimes because I was in the mood and was aiming for my goal to create something that had detail, and from a distance had this beautiful calm and pieceful halo. I see it as almost meditation. To include gold you really get another view on how this piece is special and different from every angle and incidence of light making it personally a masterpiece.
Q – You recently exhibited during Miami Art Week, what was it like?
A – Amazing, just like last year when I did my first exhibition, it's Miami and it breathes art everywhere, I look like a jungle of art. Exhibitions and parties with art always at the center of attention. Surrounding myself with art, artists, collectors feels really good.
Q – What are you working on at the moment?
A – I'm currently working on three collections, one of them is called 'Heaven & Hell'. I'm also working on a collection of six paintings, additions to the 'PI = INFINITY' collection. And creating more paintings adding to the collection 'She Loves Me, She Loves Me Not'.
Q – What's the most indispensable item in your studio? 
A – Music! Without it no studio. But don't forget coffee, cigarettes and a good glass of wine or scotch.
Q – If you could purchase any piece of art, whose would it be and why?
A – Damien Hirst's, 'The Kingdom of the Father'. One of the most living pieces I've ever seen in my life. I would buy it without any thought. It puts a spell on me, it moves me. Don't know exactly why but the colors, the shapes, size, everything about it is perfection – cheers Damien!