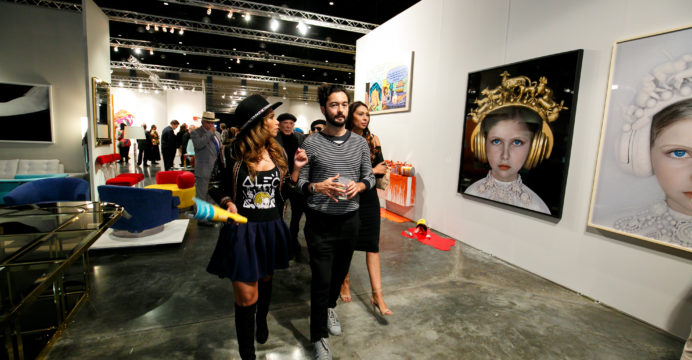 The 20th Anniversary Edition of Art Palm Beach
Experience the 20th Anniversary Edition of Art Palm Beach January 18 – 22, 2017 at the Palm Beach County Convention Center, VIP Preview on the night of January 18th. Art Palm Beach is Palm Beach County's longest running fair dedicated to contemporary, emerging, and modern master works of art of the 20th and 21st centuries. The fine art fair is internationally recognized as the premiere mid-winter contemporary art fair on Florida's Gold Coast by both art critics and enthusiasts.

APB is dedicated to contemporary, emerging, and modern master works of art of the 20th and 21st centuries. Over 75 international galleries will be exhibiting paintings, sculpture, as well as functional and innovative design.

"In celebration of the fair's 20th anniversary we have commissioned a special curated exhibition, paintings, sculpture, photography, video, new technologies, performance art, and art installations offering collectors exposure to today's emerging art trends," says Lee Ann Lester, founder/organizer, Art Palm Beach.

Art Palm Beach kicks off the annual county wide Palm Beach Art Week January 17-24, 2017. Events include art walks, performances, an art fundraising gala, open studios, demonstrations,  museum exhibitions, and a new local initiated art fair "Unleashed" in the WPB Warehouse District at Elizabeth Station benefiting Art Synergy's new 501 (c) 3 non profit arts organization.

Fast Facts:
70- 75 exhibitors

Ticket prices – $15 in advance, $20 at the door for one-day passes. Students $8 in advance, and $12 at the door.  Multi-day passes $20/$25 and $10/$15 for students.

First View/Collector's Invitational by invitation only – January 18, 2017, 6-10 pm

Additional parking the Hibiscus Garage and Macy's parking lots at City. Limited parking available at the PB Convention Center due to new parking lot construction.

Fair Hours: January 19nd, 11 a.m. until 7:00 p.m., January 20nd, Friday 11 a.m to 9 p.m., January 21st, Saturday 11 a.m. to 7 p.m. and Sunday, January 22, from 11 a.m. until 6:00 p.m.

Event Sponsor: com, ArtNet.com, ArtPrice.com

Media Partners: Art Hive Magazine, Miami Art Scene ™, Boca Magazine, Arte Al Dia, Sculpture, American Art Collector, Craft Arts International, Artpulse, Irreversible, ArtDistrict, and Art Paris International Art Fair
Cultural Partners: Armory Art Center, Art Alliance for Contemporary Glass, ArtSynergy Palm Beach County, Benzaiten Center, Boca Raton Museum of Art, Downtown Development Authority of West Palm Beach, Lighthouse Center for the Arts, Palm Beach Photographic Center, among others.