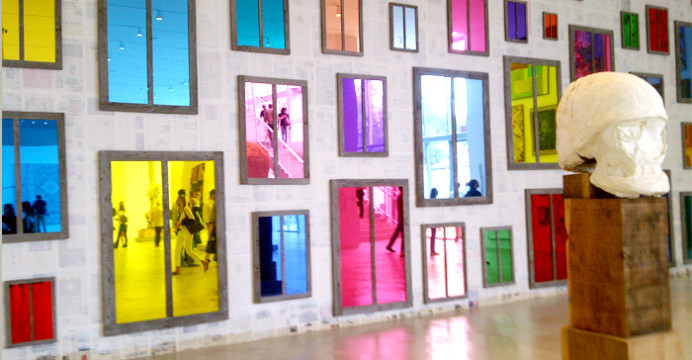 The Brilliant De La Cruz Collection Contemporary Art Space
In December 2009 Rosa and Carlos de la Cruz opened a new space in

Miami's Design District

. The three-story 30,000 square foot structure designed by John Marquette serves as an extension to their home, which has been available for public viewing for the past twenty-five years. The

de la Cruz Collection Contemporary Art Space

is privately funded by Rosa and Carlos de la Cruz. The primary purpose of their museum is to provide education in the visual arts by showcasing their collection of contemporary art.

Since its inception the de la Cruz Collection has organized multiple exhibitions, provided artist residencies and collaborated with other institutions. Their educational programs include lectures, artist-led workshops and daily docent-led tours. As an initiative to support the local art scene, Miami artists are invited to propose ideas for site-specific installations that are exhibited throughout the year. Artists are encouraged to create works based on art as a temporary experience and establish an open platform using non-traditional art practices.

Rosa and Carlos de la Cruz's interests lie in 21st-century art from abstraction- and process-focused American artists, and this theme carries throughout the space. "I like the way artists are becoming more interested in the process than in the final outcome," says Rosa de la Cruz. "Artists are allowing you to see the process and not cover the conception of the work."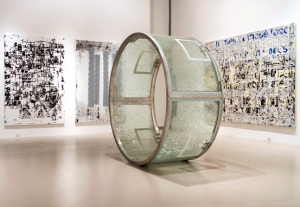 In order to serve the local schools a series of workshops and classes were established in collaboration with Dade County Public Schools to serve both teachers and students. These programs are intended to give our local students the opportunity to learn about different approaches to the creation and presentation of contemporary art. Students are encouraged to visit the space and library throughout the year and apply for internship positions. 

In 2009 the de la Cruz Collection initiated scholarship and travel programs dedicated to enrich the education of our local art students. The purpose of these programs is to create awareness and academic discipline through travel and financial support for both high school and college level students.

In the spirit of collaboration the de la Cruz Collection initiated a residency program in 2009 with the Sculpture Center in New York, organized the exhibition Fighting, Kissing, Dancing and Liquid Matter during the summer of 2011 at The Fabric Workshop and Museum in Philadelphia and hosted special screenings of Optic Nerve, 2011 and 2012 following its premiere at The Museum of Contemporary Art in North Miami. 

The de la Cruz Collection is open throughout the year, Tuesday to Saturday from 10am to 4pm. Visiting the collection, programs, lectures and access to the library is open to the public at no cost. 

The de la Cruz Collection Contemporary Art Space is privately owned and funded by Rosa and Carlos de la Cruz. It is not a foundation, is not registered as a 501(c)(3) under the US Internal Revenue Code and does not receive governmental assistance.