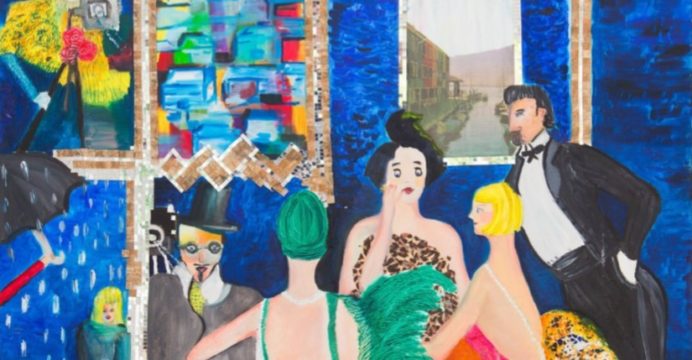 The Exciting Paintings of London-based Artist Amanda Turofsky
We recently had the pleasure to spend time with London-based contemporary artist

Amanda Turofsky

during this past Miami Art Week. Turofsky was exhibiting her exciting work with

Art Link International

of Palm Beach at

Red Dot

art fair in Wynwood during Art Basel Miami Beach December 5-9, 2017.
Turofsky is a unique artist who immediately caught our eye at the fair, because she herself actually looks like a piece of art! Her work is fresh and exciting with a naive/outsider, pop-art style. The British painter is a self-taught artist who turned to art and painting when she was diagnosed with breat cancer; thankfully Turofsky is in remission and she continues to create her works of art, inspiring others.
"I have had many careers in my life, but none that I have been so passionate about as my painting. After a Breast Cancer diagnosis I found painting was the best medicine, so I immersed myself in paints and colour and created another world for myself whilst I went through rigorous treatment. You will be pleased to know I am now in remission. All my paintings have a story and I hope you enjoy the journey as much as me," said the artist.
Art Link International recently exhibited Turofsky's painting Miami Postcard at the 21st Edition of 

Art Palm Beach

January 17-21, 2018. The work is proudly showcased beside famous artworks exhibited with Art Link, such as works by Marc Chagall, Andy Warhol, Roy Lichtenstein, and Mr. Brainwash to name a few.
Q – How long have you been an artist and how did you get started on this path?
A – I have been an artist probably all my life. My parents begged me to go to art school but I was more interested in earning money. So I only took up art the last seven years. It started as a hobby and after my diagnosis of breast cancer it became my salvation as it gave me an escape and now my art is part of my life.
Q – Where does your inspiration come from?
A – I love life and colour and my inspiration has always come from magazines and photos but now with the internet my love of photos is endless. I love finding images that can create a story and my paintings evolve from there.
Q – Tell us about your recent shows during Art Basel Miami Beach and Palm Beach Art Week, where and with whom did you exhibit?
A – I have exhibited my work at a few exhibitions in the UK, but the last couple of years I have been lucky enough to be represented by Artlink International which has been amazing and I have been extremely chuffed to have my work hung next to Picasso's, Brainwash, Warhol's etc, going to Art Basel and being one of the artists represented has been one of the highlights of my life.
Q – Any rituals you have when you're creating an art piece?
A –  I haven't any rituals when I paint. Once I get started on a painting I can't stop and I love it when the painting evolves and takes on its own personality.
Q – What is your creative process like?
A –  I have never thought of what my creative process is like but as you can see from my work I love life and I love the fun of a moment in time that makes people smile so I take images and sometimes collage them into a scene and then create it on canvas.
Q – We love your art merchandise, can you tell us more about your fashion accessories and home décor pieces?
A –  After I had my third child I needed something to keep me busy so I qualified as an interior designer. I go to a lot of exhibitions and I have always felt there is a gap in the market for quirky household items and fashion accessories so I have been playing with putting my images on products and I love the results. I think what I have created so far works so well and I can't wait for the day my collections will be available everywhere.
Q – What is the best part about being an artist?
A – The best part of being an artist is I have no call on my time . It is not a 9 to 5 job and it allows me to be creative when and where I want.
Q – What are you working on at the moment, what's next on the horizon for you?
A – What's next …… ????? Watch this space!