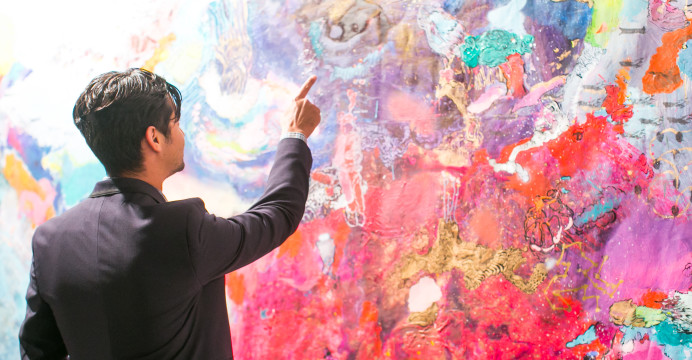 The Inaugural Art Boca Raton Contemporary International Art Fair March 18-21, 2016
David and Lee Ann Lester, founders of Next Level Fairs, who own and operate Art Palm Beach are launching Art Boca Raton March 18-21, 2016.  The fair will showcase contemporary work, modern masters, and emerging art, sculpture, photography, works on paper and installations. Boca Raton is on the national radar not only for its beaches and phenomenal weather, it is on many "best of" lists including the nation's best small city for starting a business, Florida's banking and wealth management capital, and it is the major commercial center in Palm Beach County.  Until recently, there was only one thing that Miami and Palm Beach had that Boca didn't… a world class art fair.
"Boca Raton is the commercial center of Palm Beach County. Major luxury brands and retailers have large presences there.  Launching Art Boca Raton in this culturally and commercially thriving community with the partnership of the Boca Raton Museum of Art and other local institutions creates an entirely new cultural environment and experience for residents and visitors," says David Lester.  "It offers an exciting new seasonal destination for serious art collectors from throughout the United States". The fair will take place in the International Pavilion of the Palm Beaches on the grounds of the Research Park at Florida Atlantic University located at 3450 NW 8th Avenue, Boca Raton, FL 33431.  The 65,000 square foot exhibition hall will include a full service restaurant, sculpture garden and lecture hall.  Ample self and valet parking adjacent to the pavilion makes it easy to visit more than once.
According to Forbes Magazine, Boca Raton has three of the ten most expensive exclusive gated communities in the U.S., Boca Raton has had a long history as a major high tech center for software and companies leading new technologies as it was the original headquarters of IBM.  The Research Park at FAU, anchored by software company Modernizing Medicine, supports an environment where companies engaged in the research and development of new and innovative products can thrive. The Research Park is home to high-tech companies and support organizations as well as the Technology Business Incubator and angel investor groups and the Institute for the Commercialization of Public Research and other publicly funded research institutes.
"We have been working together, Florida Atlanta University, the Boca Raton Museum of Art and Art Boca Raton to develop an expanded creative campus that incorporates the full community of our city," says Irvin Lippman.  "This partnership has brought together east and west and the educational and cultural institutions, the art dealers, residents and tourists – a true community effort," continues Lippman. 

Mayor Susan Haynie and her Deputy Mayor, Robert Weinroth, showed their support of Art Boca Raton at a recent meeting hosted by the Boca Raton Museum of Art, bringing together the organizers, the museum board members, city officials, the Chamber of Commerce and the Tourism Development Council.  According to the Chair of the Board of Trustees, Dalia 

Stiller who led the meeting, "the point of our coming together is to create a leadership committee to shepherd the fair through its inaugural year, setting the stage for a prestigious annual event that is a win-win for all involved." In addition, 

Troy McLellan, President & CEO of the Boca Raton Chamber of Commerce said, "cultural opportunities such as Art Boca Raton build community."
Art Boca Raton opens with an exclusive Vernissage on March 17, 2016 to benefit the Boca Raton Museum of Art  and Art School chaired by, Dalia Stiller and her husband Duane Stiller, Founder and President of Woolbright Development.  Ticket prices for the event are $150 and $250 and may be purchased through the Museum at www.bocamuseum.org/vernissage. "March in Boca Raton is a celebration of the arts," says Glenn P. Jergensen, Executive Director of the Palm Beach County Tourist Development Council.  "The assets of the Tourist Development Council are at the disposal of the fair and its partners".
Highlights:
After Dark evening events will be held at the Boca Raton Museum of Art following the close of the fair each day. For additional information visit bocamuseum.org

Boca Talks at the Boca Raton Museum of Art on Sunday, March 20th from 3:00 p.m. to 4:00 p.m. Bob Colacello: In and Out with Andy. Vanity Fair special correspondent Bob Colacello spent a decade by Andy Warhol's side as employee, collaborator, wingman, and confidante. As the editor of Interview from 1971 – 1983, Colacello photographed the glamorous world of Warhol's circle of associates, the Factory office, star-studded parties and openings around the world, and captured images of Warhol in quiet moments at his most honest and vulnerable. Colacello discusses his new exhibition and recalls life with Warhol and the brilliant, controlling, private, insecure, and immeasurably influential man who continues to fascinate us.  $5 for Museum Members and $15 for Non-Members. Students with ID: $5.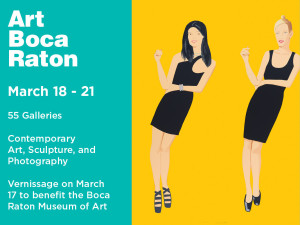 A superb lecture series, a highlight of all the fairs organized by Lee Ann and David Lester. Among the offerings will be a lecture coinciding with the exhibitions on view at the Boca Raton Museum of Art focusing on Andy Warhol. On view at the Museum (located in Mizner Park) until May 1, 2016 is Warhol on Vinyl: The Record Covers, 1949-1987+; Warhol Prints from the Collection of Marc Bell, and Bob Colacello: In and Out with Andy. "No other artist of the twentieth century had a firmer grasp on the zeitgeist of his time nor a greater impact on contemporary art than did Andy Warhol.  Shoe illustrator, filmmaker, painter, sculptor, photographer, printmaker, collector and celebrity – Warhol is one of those few artists who successfully made the transition from studio into popular culture," says Irvin Lippman, Executive Director, Boca Raton Museum of Art.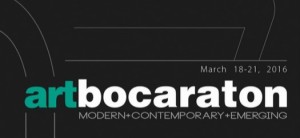 "Having pioneered the Florida art fair market since 1991, we understand the importance of the area as a growing international art market," says David Lester.  Next Level Fairs recognizes the imperative that each of their fairs must create a truly elegant, relaxed, non-intimidating and welcoming atmosphere for potential buyers and collectors. Each must be more than just another art fair –  it is a collage of creative food concepts, interesting entertaining and artistic performances, informative lectures, live music and unique experiences of many kinds. "As new venues for cultural entertainment, art fairs are the hubs of excitement, creativity and energy – ensuring that time spent by visiting attendees is both enjoyable, rewarding and interesting," says David Lester. The fair is open to the public from Friday, March 18 through Monday, March 21, 2016 from 11am-6pm daily.  For tickets and a full list of events visit www.artbocaraton.com.