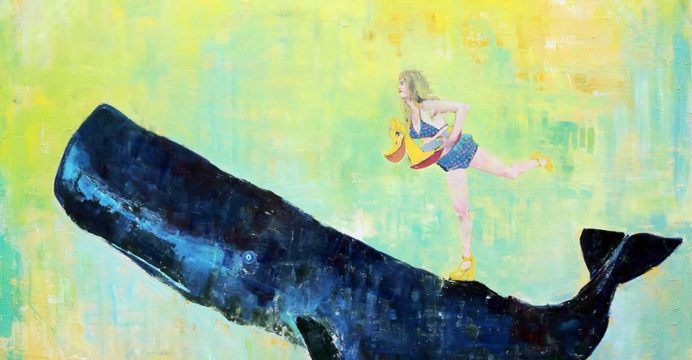 The whimsical fantasy world of Artist Brian Keith Stephens is back for a second solo exhibition at Sirona Fine Art
Sirona Fine Art presents "I Believe in Miracles", a solo exhibition by renowned artist Brian Keith Stephens – Opening Reception on Saturday, November 5th from 6-9pm. The exhibition will be on view from November 5th through December 2nd, 2016.
Brian Keith Stephens is a perfect example of an artist who paints directly from his emotions and instincts. Stephens prepares his canvases by attaching random bits of cloth and canvas to the surface, creating abstract patterns that he overlays with frenetic, layered, broad strokes by brush and palette knife. Simple images of animals, his children and those he loves take on iconic stature in his large paintings. Stephens has exhibited in Germany, France, Denmark and across the United States.
"In this highly anticipated solo exhibition, Brian Keith Stephens invites us to share his vision of the vast dominion of small but profound marvels that occur unceasingly all around us. These newest paintings seek to remind us of an age-old dialogue with the cosmos that many of us have forsaken—an intimate and timeless conversation between present and past, the close-at-hand and the unfathomably distant, the trivial and the essential. Just behind the illusory veil of mundane life, he suggests, there lurks a magical dimension coextensive with our own, one gravid with life-affirming wonders."  —Jeff Edwards, art critic and faculty member, School of Visual Arts, New York.
"Almost half of the images in this series juxtapose wild animals with a playful, masquerading female figure who serves here as Stephens' image of the eternal lover and the captivating other. Across nearly a dozen scenes, she adopts a wide range of personae alongside her untamed companions: sunbather, seductress, dancer, model, pinup, sibyl, sprite. Each pairing seems to hint at the near-infinite variety of marvelous beasts, ourselves included, that the living cosmos has cast up into the light from the depths of its irrepressibly creative spirit. Love in its myriad forms is the vital medium that binds these images together and animates them. Each of these canvases is a small act of pure passion, and as such each stands as an emissary of the life's unexpected blissful miracles, great and small. We are all players in life's never ending spectacle: we are animal, we are magical, and we are all moving forward together, linked inextricably to one another." ­ said Jeff Edwards in his critique of Brian Keith Stephens work.
Stephens paint strokes are applied in energetic, staccato bursts of thick, intense layers of color. Simplified, heartfelt images of both pastoral and intensely personal subjects are of equal importance to the ambiguous, charged color fields that surround them. Brian Keith Stephens' solo exhibition "I Believe in Miracles" opens on Saturday, November 5th and will be an ongoing exhibition through December 2nd, 2016. Printed catalogs are available through the gallery. Sirona Fine Art is located in The Village at Gulfstream Park 600 Silks Run #1240 in Hallandale Beach, Florida 33009. Kindly RSVP to info@sironafineart.com