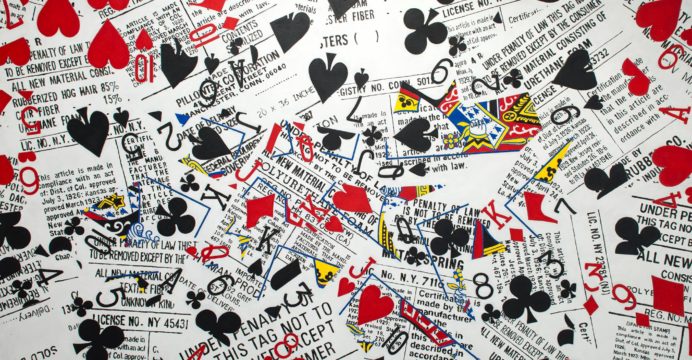 Tranter-Sinni Gallery Presents Artist Jamie dePasquale's EXPLORATION + EVOLUTION: Game of Life Series
Tranter-Sinni Gallery is proud to present artist Jamie dePasquale and his exhibit EXPLORATION + EVOLUTION: Game of Life Series. Wynwood's newly arrived gallery presents an exhibition of award-winning artist and former Roy Lichtenstein's assistant Jamie dePasquale Grand Opening exhibition on Thursday, September 29th from 6pm-9pm. Leading into 2000, the artist began experimenting with sculptures and discovered the idea of scale in his works. Creating his island paintings, which will be featured in this upcoming exhibit with Tranter-Sinni Gallery located in the world-renowned Museo Vault Building in the heart of the Wynwood Arts District. The exhibition opens September 29th and runs through October 29th, 2016.
In 1976 Jamie began his art series with his pattern paintings, inspired by a viewing of a horse against a brick wall that would help influence his idea of electric, 3 dimensional images. Pretty abstraction with an idea of vandalism through his ripped canvas. He went on to show his work at the Monique Knowlton Gallery. Showing a variety of his cartoon portrait, stylized, non-existent animals. From dogs to lions, Jamie's lion theme making a huge impression on the art scene in New York. Jamie dePasquale received an outstanding review for his series by John Russel, who was one of the foremost art critics of the New York times. In 1986 until 1991 Jamie dePasquale began working on his transitional works. Influenced by Roy Lichtenstein's organized pictures planes, 2 dimensional patterns and pieces lead him to his brick series to include the brick house and brick tree. He began drawing a series from this. His hobby of crosswords began to take on a life of their own. He was fascinated by the squares of how the puzzles can do anything, how they can be manipulated by shape and color. Like a mathematical equation he would see the same in a stack of playing cards, MaryJane 
wrappers, mattress labels or domino's. Connecting the dots, leaving out edges and creating shapes and abstraction through his paintings. This series featuring his unique style of Cubist, pop art.
For over 25 years dePasquale worked side by side in the studio with Lichtenstein, observing his techniques and offering his paintings for critiques. DePasquale observed Lichtenstein constantly moving from one painting to the next, always evolving his technique to stay fresh. DePasquale adapted this approach to his technique, mastering one technical aspect and then moving to the next. This exhibition portrays this series of techniques.

Jamie dePasquale born February 16th, 1953 in Brooklyn, New York is an award-winning artist. He was Roy Lichtenstein's assistant for 25 years has had one person exhibitions at; The Monique Knowlton Gallery, NYC, The Parrish Art Museum, Southampton, NY, The Tony Shafrazi Gallery, NYC, The OK Harris Gallery, NYC, The Stephen Kessler Gallery, NYC, and Gallery Shchukin Gallery, NYC. Jamie received special recognition from John Russell, The NY Times Art Critic and Juror, for a group show titled "California Collections". His work has also been included in many group exhibitions since the mid 1970's.
Tranter-Sinni Gallery was established in 2009, with its first gallery platform in Caledon, ON Canada. It is a secondary market gallery specializing in work by Modern, pre and post-war, contemporary European and American artists. Located in the world-renowned Museo Vault Building at 350 NW 29th Street in Miami, Florida 33127. The gallery provides an intimate space for exhibitions of art and sculpture, with a strong reputation for historically focused exhibitions. Serving an international clientele, which aims to work closely with private collections, estates, foundations and other institutions to promote the highest quality, most significant and valuable art for our collectors. Tranter-Sinni Gallery team offers expert advice and personalized consulting services in guiding clients step by step thru the delicate process of building a noteworthy art collection. The gallery presents ten artists solo exhibitions per year, and it proudly promotes its roster at major International Art Fairs.