Tranter-Sinni Gallery Presents Hui Chi Lee's Lián; Liàn Series
Join us at 

Tranter-Sinni Gallery

 in the Wynwood Arts District for the anticipated Opening Reception of Hui Chi Lee's solo exhibition, the Lian Lian series, on Friday, February 16th from 6-9pm. Exhibition is on view through March 5, 2018.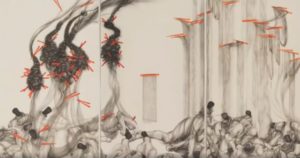 "The second series is titled 'Lián; Liàn', which are two Chinese homophones meaning 'to connect' and 'to enchain'. This series of large-scale drawings explores the tensions and dynamics between how people are connected and how these connections themselves may also serve to enchain. In part, this series is a reflection on Taiwanese cultural traditions that can seem oppressive in contemporary society. I use the human figure as an agent to prompt discourse on these conditions," explained the artist Hui Chi Lee.

"I am interested in the obscure and anonymous quality of the human form, and I want to guide the viewer to consider the subject matter in a critical, holistic manner. I use color in the subject matter in a symbolic, metaphorical way. Red symbolizes both a warning and an awakening moment in life, and hair signifies the duration of a life span and time of which we are often hardly aware – an acknowledgement of the finitude of life but yet a vision of it as somehow endless."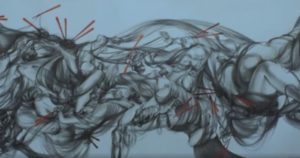 Tranter-Sinni Gallery

is a secondary gallery specializing in work by modern, post-war, and contemporary Asian, European and American art. The gallery is located in the renowned Museo Vault Building, located at 350 NW 29th Street in the heart of the Wynwood Arts District in Miami, Florida 33127; with its first gallery location in Caledon, ON. Tranter-Sinni's team offers expert advice and personalized consulting services guiding clients step-by-step through the delicate process of building a noteworthy art collection.