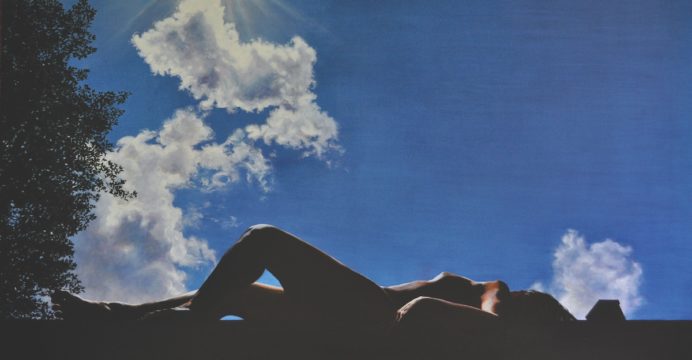 WTF Special Exhibition at ArtPalmBeach 2018
The anticipated exhibition WTF at

ArtPalmBeach

 January 17-21, 2018 is curated by

PoetsArtists

publisher Didi Menendez. WTF is about women. Women who are painting whatever they want. In the last decade, a new art movement surged around Women Painting Women established by Alia El-Bermani, Diane Feissel and Sadie Valeri.
Many exhibitions and publications sprang across the USA with works by women painting women yet women are still not acknowledged as well as men and are a minority showing in museums and galleries. Even though the Women Painting Women movement paved the way for this exhibition, WTF takes the work of this movement further and asks why do women have to paint only women to be recognized?
This exhibition showcases the works by 15 females who are painting WTF they want. Even though many of the subjects in the exhibition still have women as the main subject there is a deeper connection.
For example, Erica Elan Ciganek focuses on the interaction of women and the significance of encountering one another. Heidi Elbers takes her personal experiences growing up in Louisiana and the Mardi Gras and incorporates them into her subjects.
Natalia Fabia creates her own world in her work. Her subjects are placed in made-up cities and landscapes. Kit King creates intense, emotional, and intimate hyperrealist portraits which undress the cultural layers worth and shapes identity within the social stratum. Lorena Kloosterboer's paintings of still life are infused with symbolism.
Tanja Gant uses colored pencils to capture a glimpse of a life which she threads bits and pieces of her personal experiences in. Daena Title feminist work centers on her obsession with the seductive force of modern female icons. Sara Stieber amplifies real-life paintings with a bejeweled palette of brilliant hues to capture the spirituality of her subjects.
Katie Miller HYPERREAL series explores the real and the fake blending the two into one so the viewer is unable to distinguish original from the copy. Erin Milan's explains Louisiana and the Mardi Gras and incorporate them into her subjects. Erin Milan's explores desire, nourishment, and loss.
Eventually, the idea of this exhibition is to strive for a world where gender is no longer used to describe an artist. We don't go around saying "here is a show by male artists" do we? So WTF do we need to continue to do it with women then?
ArtPalmBeach

 January 17-21, 2018
Palm Beach County Convention Center
650 Okeechobee Boulevard
West Palm Beach, Florida 33401
Days and Times
Jan. 17th: 6-10 pm
Jan. 18th: 12 noon – 7 pm
Jan. 19th: 12 noon – 7 pm
Jan. 20th: 12 noon – 7pm
Jan. 21th: 12 noon – 6 pm