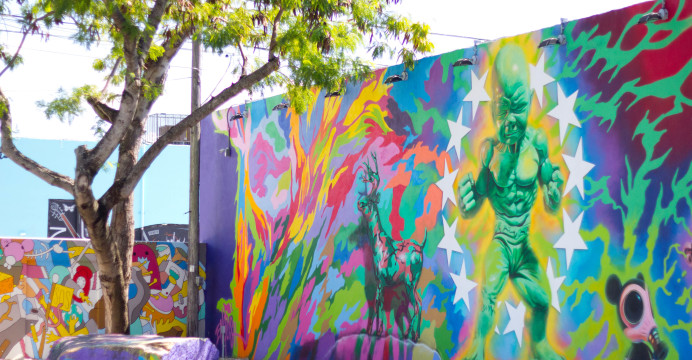 Wynwood Walls to Debut New Murals, Installations and the Garden During Art Basel Week
Wynwood Walls, the epicenter of the Wynwood Arts District, launched in 2009 by the late, legendary Tony Goldman as a "Museum of the Streets" draws hundreds of thousands of visitors year round. But it is during the first week of December every year that Wynwood's star shines brightest for artists, collectors and celebrities who converge on Miami during Miami Art Week and Art Basel Miami Beach. Curated by the Goldman Family since 2012, this year's program Walls of Change will include 14 new large scale murals and installations by globally acclaimed street artists, as well as a program of events within the art park that will be free and open to the public. This year, Goldman Properties will also debut The Wynwood Walls Garden, a new art space adjacent to the Wynwood Doors, which the company recently purchased to augment its artistic imprint in the neighborhood.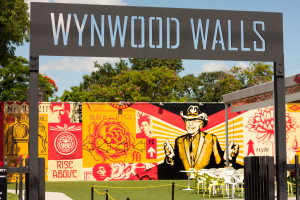 "The program focuses on the utilization of art as a change agent. There is no better way to describe what is happening in Wynwood than this year's theme of Walls of Change. The diversity, passion and spirit of our curated selection of artists have brought an energy to the Wynwood Walls unlike anything anywhere. This year's group of artists has extraordinary talents and perspectives. It is through their walls that we wish to create a thought provoking, inspiring and hopeful environment where our visitors are inspired to push their own boundaries and create their own change", explained Jessica Goldman Srebnick, CEO of Goldman Properties.
Walls of Change will showcase the work of a varied mix of outstanding artists – some household names in the street art world, others up and coming.  Artists include: Case (Germany), Crash (USA), Cryptik (USA), el Seed (France), Ernest Zacharevic (Lithuania), Fafi (France), Hueman (USA), INTI (Chile), The London Police (UK), and Logan Hicks (USA). Spanish artist duo Pichi & Avo will create their mural on stacked shipping containers in the newly minted Wynwood Walls Garden while Magnus Sodamin (USA) will paint the floors and walls of the Wynwood Walls' new gallery/events space, along with Alexis Diaz (Puerto Rico) creating a one-of-a-kind sculpture.  
Pichi & Avo, whose monumental works have been displayed throughout Europe, are excited about their USA debut. "We look forward to being part of this year's program; it will be also our first time painting in the States and with a big project. Viewers can expect a heady concoction of ancient and modern that remixes classics from art and graffiti history. Any artist would be happy to be in Wynwood, one of the most important areas for street art in the world." 
Examples of work by French-Tunisian artist el Seed, a combination of graffiti and traditional Arabic calligraphy he calls 'calligrafitti," can be found on every continent. Now the artist will be creating work in Wynwood for the first time.  According to el Seed, "I am super excited to be part of Wynwood Walls this year. Wynwood's energy and spirit has inspired many art initiatives all around the world, and it is an honor for me to paint there."
Wynwood Walls is located at 2520 NW 2nd Avenue between 25th and 26th Streets.  Joey's Italian Café and Wynwood Kitchen & Bar flank the Walls. Free and open to the public, the Walls will be open during Miami Art Week from 10AM until Midnight. Citi will serve as Wynwood Walls' first ever Presenting Sponsor, supporting the program's public art and events. 
For over 45 years Goldman Properties has been recognizing the value in depressed, undervalued urban areas, reconstructing and transforming declining historic districts into popular, thriving global destinations. Goldman Properties has been recognized as the driving force behind the transformation of South Beach, Center City Philadelphia, SoHo and Wall Street in New York City and most recently the transformation of Wynwood, Miami's emerging arts district.